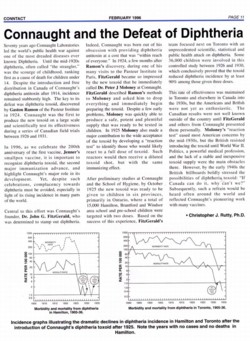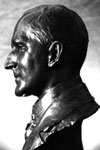 Dr. John Gerald FitzGerald (1882-1940)
Images from Sanofi Pasteur Limited Archives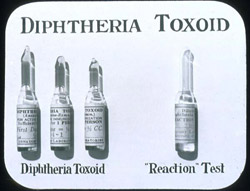 Dramatic impact of Diphtheria Toxoid immunization in Hamilton, ON, by the early 1930s (click image for larger view)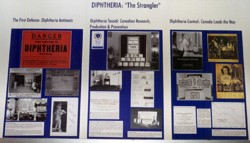 Posters highlighting the history of diphtheria toxoid, collected from the archives of Sanofi Pasteur Limited (Connaught Campus) Archives for Canadian Medical Hall of Fame exhibit╩"Canada and the History of Vaccines," Summer 1996 - Click image for larger view
---
Known as Connaught Laboratories during most of the 1920s through 1940s, and as Connaught Medical Research Laboratories after 1946, the Labs remained an uniquely organized, non-commercial and self-sustaining part of the University of Toronto from 1914 until 1972, when it was sold to the Canadian Development Corporation (CDC), a federal Crown corporation, and privatized. By 1989 the CDC had divested much of its interest in Connaught and Institut Merieux of Lyon, France, acquired a controlling stake in the company. By this time, Institut MÄrieux had formed an alliance with the Pasteur Institute. Over the next decade Connaught remained the Canadian component of what became known as Pasteur Merieux Connaught, which, in turn, was owned by Rhone Poulenc, a French multinational chemical, agricultural and biotech company.╩ In December 1999, RhÖne Poulenc and the German pharmaceutical and chemical company, Hoechst, joined forces to create a new pharmaceutical/ biotech giant known as Aventis. In the process, Connaught's identity changed in a significant way for the third time since 1972. Pasteur MÄrieux Connaught became known as Aventis Pasteur, and in Canada became the "Connaught Campus" of Aventis Pasteur. However, within five years, Aventis was transformed into the even larger Sanofi-Aventis Group, following the acquisition of Aventis by Sanofi-Synthelabo of Paris. The original Connaught identity thus shifted yet again to become the Canadian component of Sanofi Pasteur, the global vaccine business of Sanofi-Aventis.
For more see the Canadian History section of sanofipasteur.ca
Seventy years ago Connaught Laboratories led the world's public health war against one of the most dreaded diseases ever known: Diphtheria. Until the mid-1920s diphtheria, often called "the strangler," was the scourge of childhood, ranking first as a cause of death for children under 14. Despite the introduction and free distribution in Canada of Connaught's diphtheria antitoxin after 1914, incidence remained stubbornly high. The key to its defeat was diphtheria toxoid, discovered by Gaston Ramon of the Pasteur Institute in 1924. But Connaught was the first to produce the new toxoid on a large scale and scientifically test its effectiveness during a series of Canadian field trials between 1926 and 1931.

In 1996, as we celebrate the 200th anniversary of the first vaccine, Jenner's smallpox vaccine, it is important to recognize diphtheria toxoid, the second major immunization advance, and highlight Connaught's major role in its development. Yet, despite such celebrations, complacency towards diphtheria must be avoided, especially in light of its rising incidence in many parts of the world.

Ramon's discovery of diphtheria toxoid was, like many great medical advances, accidental.╩ It involved treating diphtheria toxin with formalin, which destroyed its toxicity while preserving its ability to stimulate natural antitoxin production.╩╩ Others had tried to provoke active immunity against diphtheria, especially by injecting a carefully balanced diphtheria toxin-antitoxin blend, but with varying degrees of success.╩ This method was popular between 1913 and the mid-1920s, especially in the U.S., but it was ultimately replaced by diphtheria toxoid after Connaught's spectacular field trial results became known.╩ In the wake of these trials diphtheria incidence declined sharply in such cites as Toronto and Hamilton, dropping effectively to zero cases and zero deaths by the early 1930s.╩ This pioneering Canadian public health effort╩ represented the first statistical demonstration of the value of a non-living vaccine in preventing a specific disease.

Central to this effort was Connaught's founder, Dr. John G. FitzGerald, who was determined to stamp out diphtheria. Indeed, Connaught was born out of his obsession with providing diphtheria antitoxin at a cost that was "within reach of everyone." In 1924, a few months after Ramon's discovery, during one of his many visits to the Pasteur Institute in Paris, FitzGerald became so impressed by the new toxoid that he immediately called Dr Peter J Moloney at Connaught. FitzGerald described Ramon's methods to Moloney and asked him to drop everything and immediately begin preparing the toxoid. Despite a few early problems, Moloney was quickly able to produce a safe, potent and plentiful supply that was ready to be tested in children. In 1925, Moloney also made a major contribution to the wide acceptance of the toxoid by developing a "reaction test" to identify those who would likely react to a full dose of toxoid. Such reactors would then receive a diluted toxoid shot, but with the same immunizing effect.

After preliminary studies at Connaught and the School of Hygiene, by October 1925 the new toxoid was ready to be given to children in six provinces, primarily in Ontario, where a total of 15,000 Hamilton, Brantford and Windsor area school and pre-school children were targeted with two doses. Based on the success of this experience FitzGerald's team focused next on Toronto with an unprecedented scientific, statistical and public health attack on diphtheria. Some 36,000 children were involved in this controlled study between 1926 and 1930, which conclusively proved that the toxoid reduced diphtheria incidence by at least 90% among those given three doses.

This rate of effectiveness was maintained in Toronto and elsewhere in Canada into the 1930s, but the Americans and British were not yet as enthusiastic. The Canadian results were not well known outside of the country until FitzGerald and others from Connaught presented them personally. Moloney's "reaction test" eased most American concerns by the mid-1930s, but the British resisted introducing the toxoid until World War II. Politics, a powerful medical profession, and the lack of a stable and inexpensive toxoid supply were the main obstacles there. However, by the early 1940s the British billboards boldly stressed the possibilities of diphtheria toxoid: "If Canada can do it, why can't we?" Subsequently, such a refrain would be heard often around the world and reflected Connaught's pioneering work with many vaccines.
---