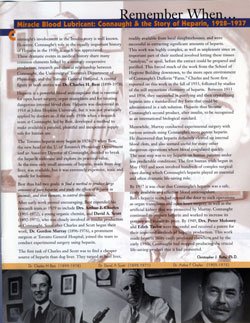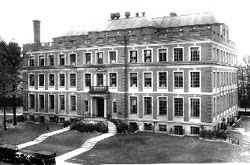 Dr. Charles Best's heparin research group worked at the School of Hygiene Building (above) and at Connaught's "Farm" (below) in what is now known as the Connaught Campus of Sanofi Pasteur Limited in north Toronto. The bottom photo shows Dr. A.F. Charles in his laboratory.
(Photos from Sanofi Pasteur Limited Archives)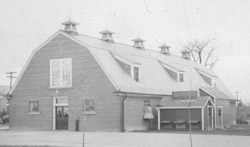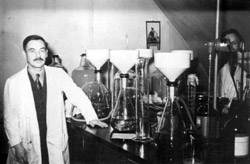 Connaught Laboratories: A Brief History.
Known as Connaught Laboratories during most of the 1920s through 1940s, and as Connaught Medical Research Laboratories after 1946, the Labs remained an uniquely organized, non-commercial and self-sustaining part of the University of Toronto from 1914 until 1972, when it was sold to the Canadian Development Corporation (CDC), a federal Crown corporation, and privatized. By 1989 the CDC had divested much of its interest in Connaught and Institut Merieux of Lyon, France, acquired a controlling stake in the company. By this time, Institut MŽrieux had formed an alliance with the Pasteur Institute. Over the next decade Connaught remained the Canadian component of what became known as Pasteur Merieux Connaught, which, in turn, was owned by Rhone Poulenc, a French multinational chemical, agricultural and biotech company.Ê In December 1999, Rh™ne Poulenc and the German pharmaceutical and chemical company, Hoechst, joined forces to create a new pharmaceutical/ biotech giant known as Aventis. In the process, Connaught's identity changed in a significant way for the third time since 1972. Pasteur MŽrieux Connaught became known as Aventis Pasteur, and in Canada became the "Connaught Campus" of Aventis Pasteur. However, within five years, Aventis was transformed into the even larger Sanofi-Aventis Group, following the acquisition of Aventis by Sanofi-Synthelabo of Paris. The original Connaught identity thus shifted yet again to become the Canadian component of Sanofi Pasteur, the global vaccine business of Sanofi-Aventis.
For more see the Canadian History section of sanofipasteur.ca
Connaught Laboratories' involvement in the Insulin story is well known. However, Connaught's role in the even more important history of Heparin in the 1930s is much less appreciated. These dramatic events in medical history share many common elements linked by a strongly cooperative production, research and clinical relationship between Connaught, the University of Toronto's Department of Physiology, and the Toronto General Hospital. A central figure to both stories was Dr. Charles H. Best (1899-1978).

Heparin is a powerful blood anticoagulant that is essential for open heart surgery, organ transplants and for treating dangerous internal blood clots, or thrombosis, which can block blood flow to the lungs with sudden and fatal results. Heparin was discovered in 1916 at Johns Hopkins University, but it was not practically applied by doctors until the early 1930s when a research team at Connaught, led by Best, developed a method to make available a purified, plentiful and inexpensive supply safe for human use.

The Toronto heparin story began in 1928-29 when Best, the new head of the U. of T.'s Physiology Department and an Associate Director of Connaught, decided to break the heparin stalemate and explore its practical value. At the time only small amounts of heparin, made from dog liver, was available, but it was extremely expensive, toxic and unsafe for humans. Best thus had two goals: 1) to find a method to produce large amounts of pure heparin; and 2) study the effects of heparin in animals, and then humans, to control thrombosis. After early work proved encouraging, Best expanded his research team in 1929 to include Drs. Arthur F. Charles (1905-1972), a young organic chemist, and David A. Scott (1892-1971), who was closely involved in insulin production at Connaught. Soon after Charles and Scott began their work, Dr. Gordon Murray (1896-1976), a prominent surgeon at Toronto General Hospital, joined the team to conduct experimental surgery using heparin.

The first task of Charles and Scott was to find a cheaper source of heparin than dog liver. They turned to beef liver, readily available from local slaughterhouses, and were successful in extracting significant amounts of heparin. However, a growing pet food industry drove up the price of beef liver, forcing Charles and Scott to try other tissues. They found that beef lung and intestines were also good sources of heparin; the latter more plentiful and cheap as it was less useful for pet foods. This work was highly complex, as well as unpleasant since an important part of their method involved letting these tissues "autolyze," or spoil, before the extract could be prepared and purified. This forced much of the work from the School of Hygiene Building downtown, to the more open environment of Connaught's Dufferin "Farm." Charles and Scott first reported on this work in the fall of 1933, followed by studies of the still mysterious chemistry of heparin. Between 1933 and 1936, they succeeded in purifying and then crystallizing heparin into a standardized dry form that could be administered in a salt solution. Heparin thus became Connaught's second product, after insulin, to be recognized as an international biological standard.

Meanwhile, Murray conducted experimental surgery with various animals using Connaught's more potent heparin. He discovered that heparin definitely cleared up internal blood clots, and also seemed useful for many other dangerous operations where blood coagulated quickly. The next step was to try heparin on human patients under less predictable conditions. The first human trials began in May 1935 and soon involved hundreds of complex surgical cases during which Connaught's heparin played an essential and often dramatic life-saving role.

By 1937 it was clear that Connaught's heparin was a safe, easily available and effective blood anticoagulant. Best's heparin team had opened the door to such operations as organ transplants and open heart surgery, as well as the artificial kidney that was pioneered by Murray. Connaught continued to prepare heparin and worked to increase its potency and reduce its price. By 1949, Drs. Peter Moloney and Edith Taylor were successful and received a patent for their improved methods of heparin production. Ironically, this work made heparin more easily produced elsewhere. Thus, by the early 1950s, Connaught had stopped producing a crucial life-saving product that it had pioneered.
---