Home
"DISEASE AND DISABILITY
Poliomyelitis, Rehabilitation and Social Reform 
for Disabled Persons in New Brunswick,1941-1955"
MA Thesis
University of New Brunswick
Department of History
1994
Dr. Ernie Forbes, Supervisor
© 1994 Gillian A.W. Liebenberg

Photocopies of this thesis are available for $30, postage included, from the address below:

---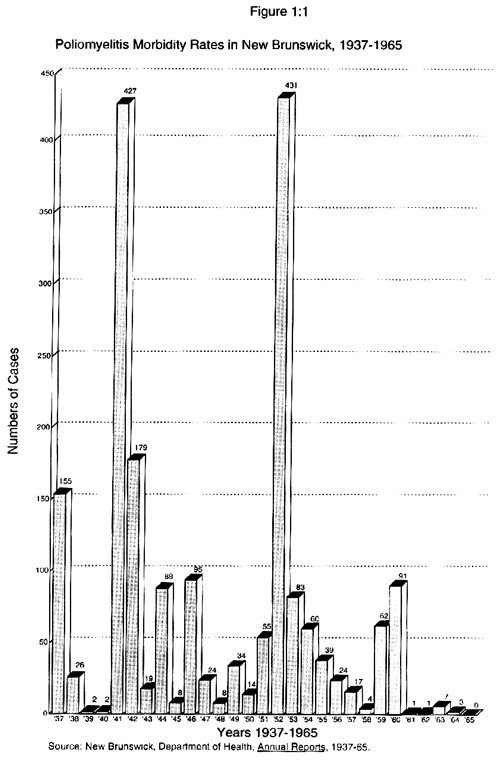 Abstract 
Prior to 1941, physically disabled persons in New Brunswick led predictably bleak lives, hidden away in their communities with little access to medical rehabilitation. The polio years, from 1941 to 1955, represent an early stage in the social rights movement for disabled persons. The disease's distinctive character -- its surges of unpredictable epidemics, predilection for children and residual disability -- made it one of the most feared, publicized and conspicuous diseases of the twentieth century. By the 1940s, the disease was a serious social problem in Canada. Despite its catastrophic effect, epidemic polio, and in particular its related residual disability, acted as a catalyst for rehabilitation in New Brunswick, making a significant contribution to an early period of social reform for disabled persons. Polio's voluntary support movement contributed to the establishment of rehabilitation services, and played a role, as did post-polio persons, in changing the attitudes toward people with disabilities.

Polio epidemics forced the New Brunswick government to change its health care policies and enter the field of medical rehabilitation. The 1941 epidemic, in particular, was significant; 65 per cent of the 427 victims suffered from paralysis, and 53 of these predominantly young persons required hospitalization at the Fredericton Victoria Public Hospital. Indeed, the epidemic compelled the Department of Health to establish a Polio Clinic in the capital city, where early rehabilitation began. In 1952, when another severe epidemic intensified the impact of polio, the condition of the old Polio Clinic became a powerful political issue in an election held that year. It was an important factor in the defeat of the incumbent Liberal party, and committed the Conservative government to building a new Polio Clinic and Health Centre, opened in 1955.

By the mid-1950s, the polio experience was acting as the nucleus for the extension of medical services to people with other kinds of disability, in a new provincial rehabilitation program. Polio's critical contribution to rehabilitation in New Brunswick left a legacy to all disabled persons as the peak years of the disease passed.


---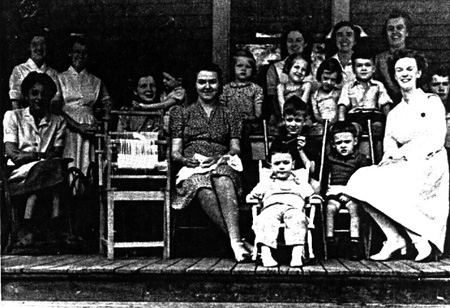 New Brunswick Polio Clinic, 1940s: Patients, Nurses, Teacher and Physiotheraptist
(Photo: Public Archives of New Brunswick)

---
Table of Contents
Introduction
Chapter One 
The New Brunswick Polio Epidemics, 1941-2: A Catalyst for Change
Chapter Two 
Changing Attitudes: Poliomyelitis and Disabled Persons in the 1940s
Chapter Three 
Polio, Power and Politics: The 1952 New Brunswick Election
Chapter Four 
Rehabilitation Redefined: The new Polio Clinic and Health Centre, 1951-55
Conclusion
Bibliography
 
---
Gillian A.W. Liebenberg
711, Valleyview Street
Fredericton E3B 4E9
New Brunswick
Canada
Tel: (506) 454-6547
Fax: (506) 454-3663
Email: gliebenb@nb.sympatico.ca
Updated: November 6, 2002