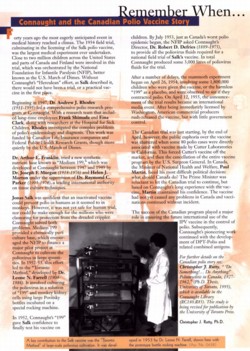 Click on image for pdf version of original article.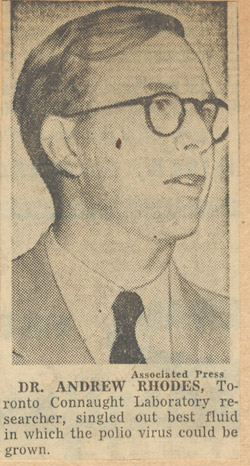 Dr. Andrew J. Rhodes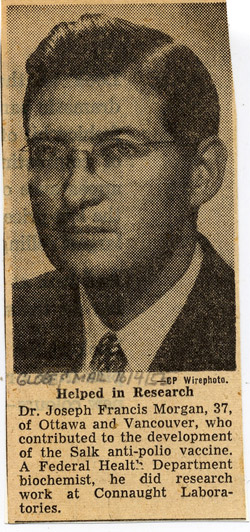 Dr. Joseph F. Morgan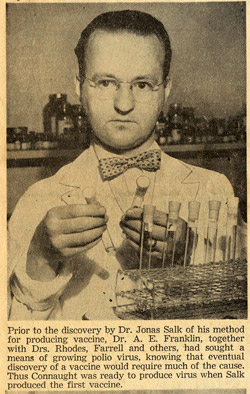 Dr. Arthur E. Franklin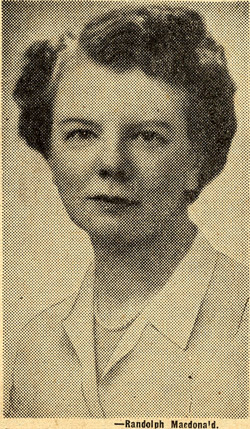 Dr. Leone N. Farrell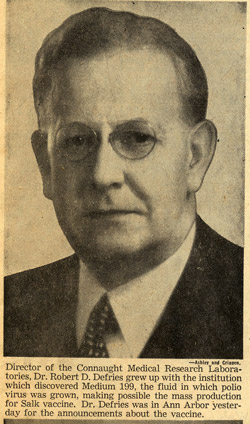 Dr. Robert D. Defries
---
Known as Connaught Laboratories during most of the 1920s through 1940s, and as Connaught Medical Research Laboratories after 1946, the Labs remained an uniquely organized, non-commercial and self-sustaining part of the University of Toronto from 1914 until 1972, when it was sold to the Canadian Development Corporation (CDC), a federal Crown corporation, and privatized. By 1989 the CDC had divested much of its interest in Connaught and Institut Merieux of Lyon, France, acquired a controlling stake in the company. By this time, Institut MŽrieux had formed an alliance with the Pasteur Institute. Over the next decade Connaught remained the Canadian component of what became known as Pasteur Merieux Connaught, which, in turn, was owned by Rhone Poulenc, a French multinational chemical, agricultural and biotech company.Ê In December 1999, Rh™ne Poulenc and the German pharmaceutical and chemical company, Hoechst, joined forces to create a new pharmaceutical/ biotech giant known as Aventis. In the process, Connaught's identity changed in a significant way for the third time since 1972. Pasteur MŽrieux Connaught became known as Aventis Pasteur, and in Canada became the "Connaught Campus" of Aventis Pasteur. However, within five years, Aventis was transformed into the even larger Sanofi-Aventis Group, following the acquisition of Aventis by Sanofi-Synthelabo of Paris. The original Connaught identity thus shifted yet again to become the Canadian component of Sanofi Pasteur, the global vaccine business of Sanofi-Aventis.
For more see the Canadian History section of sanofipasteur.ca
Forty years ago the most eagerly anticipated event in medical history reached a climax. The 1954 field trial, culminating in the licensing of the Salk polio vaccine, was the largest medical experiment ever undertaken. Close to two million children across the United States and parts of Canada and Finland were involved in this trial, which was orchestrated by the National Foundation for Infantile Paralysis (NFIP), better known as the U.S. March of Dimes. Without Connaught's "Herculean" effort, as Jonas Salk described it, there would not have been a trial, or a practical vaccine in the first place.

The complex problem of polio dominated the first half of the twentieth century.Ê While the grim terror of polio epidemics worsened, research progress remained deadlocked.Ê Hopes were raised in 1949 when a way was finally discovered to grow the poliovirus in test tubes using non-nervous tissues.Ê This Nobel Prize winning advance by Enders of Boston greatly stimulated polio researchers, including at Connaught Medical Research Laboratories in the University of Toronto.Ê Connaught researchers made two key contributions that allowed the poliovirus to be safely cultivated in enough quantities to enable the NFIP's unprecedented trial of Salk's inactivated vaccine (IPV).

Beginning in 1947, Dr. Andrew J. Rhodes (1911-1995) led a comprehensive polio research program at Connaught.Ê With a research team that included long-time employees Frank Shimada and Eina Clark, along with researchers at the Hospital for Sick Children, Rhodes investigated the complex problems of polio's epidemiology and diagnosis.Ê This work was funded by Canadian Life Insurance companies and Federal Public Health Research Grants, though more quietly by the U.S. March of Dimes.Ê

By 1951, Rhodes was growing poliovirus in test tubes using Ender's methods.Ê Not enough virus was being produced to be practical for a vaccine until a member of Rhodes' research team, Dr. Arthur E. Franklin, tried a new synthetic nutrient base known as "Medium 199."Ê It was developed at Connaught between 1947 and 1949 by Dr. Joseph F. Morgan (1918-1976) and Helen J. Morton under the supervision of Dr. Raymond C. Parker (1903-1974), a leading international authority on tissue culture techniques.Ê Medium 199 was a chemically pure mixture of over 60 ingredients originally developed for studying cell nutrition in cancer research.Ê It was the first synthetic medium ever produced.Ê

In the fall of 1951, after discussing the problems of growing the poliovirus using traditional methods, Morgan supplied Franklin with some "199" to see if it could help. To Franklin's surprise "199" worked incredibly well and was particularly effective for cultivating the poliovirus in monkey kidney cells without additional animal serums that would render any vaccine dangerous for human use.

Meanwhile, Jonas Salk was confident that an inactivated vaccine could prevent polio in humans as it seemed to in monkeys.Ê However, it was not yet safe for human trial, nor could he make enough for the millions who were clamoring for protection from the dreaded crippler.Ê Connaught solved both problems.Ê Medium 199 provided a chemically pure culture base, which encouraged the NFIP to finance a major pilot project at Connaught to cultivate the poliovirus in large quantities.Ê In 1952-53, this effort led to the "Toronto Method," developed by Dr. Leone N. Farrell (1904-1986).Ê It involved culturing the poliovirus in a solution of "199" and monkey kidney cells using large Povitsky bottles incubated on a special rocking machine.

In 1952, Connaught's "199" gave Salk confidence to finally test his vaccine on children.Ê By July 1953, just as Canada's worst polio epidemic began, the NFIP asked Connaught's Director, Dr. Robert D. Defries (1889-1975), to provide all the poliovirus fluids required for a national field trial of Salk's vaccine.ÊÊ Connaught had established a prominent international reputation for making vaccines, and since it was a non-commercial biologicals producer, an open relationship with Salk and the NFIP was possible.Ê Through the fall and winter of 1953-54, large bottles full of each of the three poliovirus types were sent in station wagons to Parke, Davis in Detroit and Eli Lilly in Indianapolis, for inactivation and processing.Ê In total Connaught produced some 3,000 litres of poliovirus fluids for the trial.

After a number of delays, the mammoth experiment began on April 26, 1954, involving some 1,800,000 children who were given the vaccine, or the harmless "199" as a placebo, or were observed to see if they contracted polio. In May, in appreciation of Connaught's work, the NFIP, through Defries, offered the Canadian government a small amount of surplus vaccine to take part in the trial. The lateness of the offer was not overly appreciated in Ottawa, or most provinces, but the seriousness of the 1953 epidemic pressured Manitoba, Alberta and Halifax to accept it. For Connaught and Ottawa, however, their sights were set on an all-Canadian trial for the spring of 1955, no matter what the U.S. results were. In the meantime, Connaught went ahead to prepare a finished vaccine, which included the double testing of each lot by Connaught and Ottawa's Laboratory of Hygiene.

On April 12, 1955, the announcement of the trial results became an international media event. After being immediately licensed by Washington, American commercial producers rush-released the vaccine, but with little government control. The Canadian trial was just starting, but unlike in the U.S., the federal and provincial governments shared the full cost of the vaccine and distributed it free to children. By the end of April, however, the public euphoria over the vaccine was shattered when some 80 polio cases were directly associated with vaccine made by Cutter Laboratories in California. This forced Cutter's vaccine off the market, and then the cancellation of the entire vaccine program by the U.S. Surgeon General. In Canada, the Minister of National Health and Welfare, Paul Martin, faced his most difficult political decision: what should Canada do? The Prime Minister was reluctant to let the Canadian trial to continue, but based on Connaught's long experience with the vaccine, Martin maintained his confidence. The vaccine had not yet caused any problems in Canada and vaccinations continued without incident.

This Canadian experience meant a great deal to Salk. It also generated considerable media attention and debate in the U.S., especially over the differing levels of government interest in the vaccine between the two countries. The success of the Canadian program also played a major role in ensuring the future international use of the IPV vaccine in the control of polio. Subsequently, Connaught's pioneering work continued with the development of DPT-Polio and related combined antigens in 1958-59, the first trivalent Sabin oral polio vaccine between 1959 and 1962, and an enhanced potency IPV vaccine in the mid 1970s prepared using continuous cell lines.

For further details on the Canadian polio story see my Ph.D. thesis: "'Do Something!... Do Anything!' Poliomyelitis in Canada, 1927-1962."

More Polio History Rsources here