Home | Profile | Education | Experience | Publications & Presentations | Writing Gallery | Multimedia | Scrapbook

Scrapbook


Several HHRS projects have attracted the attention of the media, including radio, TV and print, most of which are listed in the Publications & Presentations page of this site.

Here I have collected a few newspaper articles, two of which relate to the "Canada and the History of Vaccines" exhibit I produced for the Canadian Medical Hall of Fame in London, Ontario in the summer of 1996. Part of the exhibit was then taken to Owen Sound, Ontario as part of the Grey-Bruce Health Unit's hepatitis B immunization campaign. The "Canada and the History of Vaccines" exhibit was made possible by Pasteur Merieux Connaught Canada, which since Dec. 1999 is known as Aventis Pasteur Limited (Connaught Campus).

The third clipping is about the hospital history book I wrote in 1997-99 for St. Mary's General Hospital in Kitchener, Ontario, entitled: A Circle of Care: St. Mary's General Hospital: 75 Years of Caring.

I'll add more clippings and other media items soon.

The 2003 SARS outbreak in the Toronto area led to several media interviews to put this new global epidemic threat into historical perspective. This image is from a CBC Newsworld TV interview that aired on April 18, 2003. Click on image to view.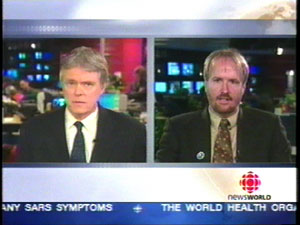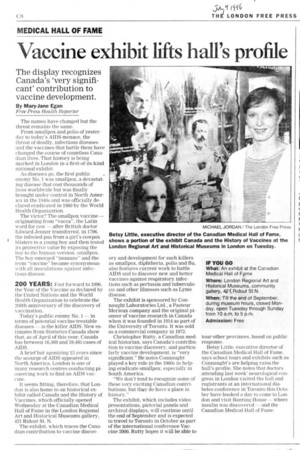 London Free Press July 4, 1996 (click on image for larger view)