Writing Gallery
Central to all aspects of my work are my writing skills. I have always enjoyed writing; from writing my own short stories, to writing essays, academic articles and papers to present at conferences, to short magazine articles, book reviews, web site and exhibit copy and longer works, such as my dissertation and a hospital history book.

A distinctive skill I I offer is an abilty to bridge academic and general audiences in my writings; that is to satisfy the detail, analysis and documentation elements of an academic work, while remaining accessible to general audiences in my thematic or narrative organization and writing style.

You will find a full listing of my written publications and presentations here.

I've included a few highlights on this page of a variety of medical history articles and my St. Mary's General Hospital history book.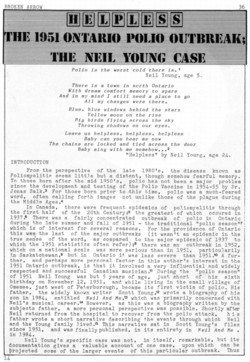 My first history of polio article: "Helpless: The 1951 Ontario Polio Outbreak: The Neil Young Case," Broken Arrow (Magazine of the Neil Young Appreciation Society) #36 (Aug 1989)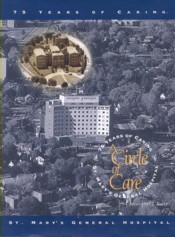 Book: A Circle of Care: 75 Years of Caring: St. Mary's General Hospital (Kitchener, SMGH, 1999)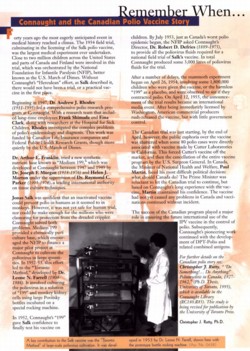 Article: "Connaught and the Canadian Polio Vaccine Story," Conntact (Pasteur Merieux Connaught Canada employee magazine), June 1996.
Full text of article available here.